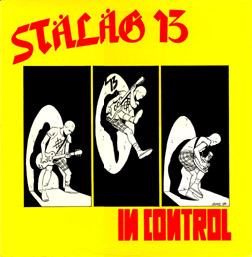 Fra i più importanti gruppi HC di Oxnard ci sono senz' altro gli
Stalag 13
.
Suono di certo debitore di 7 seconds e Minor threat, ma anche creditore di gente come Uniform choice o Dag nasty per citarne due: coinvolgente, veloce, melodico e solidissimo HC ulteriormente amalgamato da un urlato "high pitched"
In due parole: puro Nardcore!!
Anche la copertina mi piace un casino
"A real solid, good-sounding LP taking up where Minor Threat left off with live your own life In Control lyrics. Hardcore of the best kind."
-Al Flipside, from Flipside #43, 1984
320 Kbps
ECCOLO QUA